← Back to blog
Dataset Ninja 🥷 — the best way to Search and Explore Computer Vision Datasets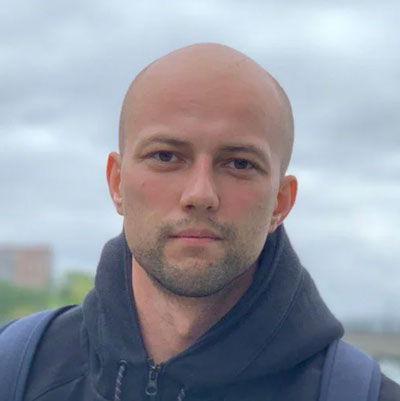 High-quality training datasets with deep analysis and visualization tools.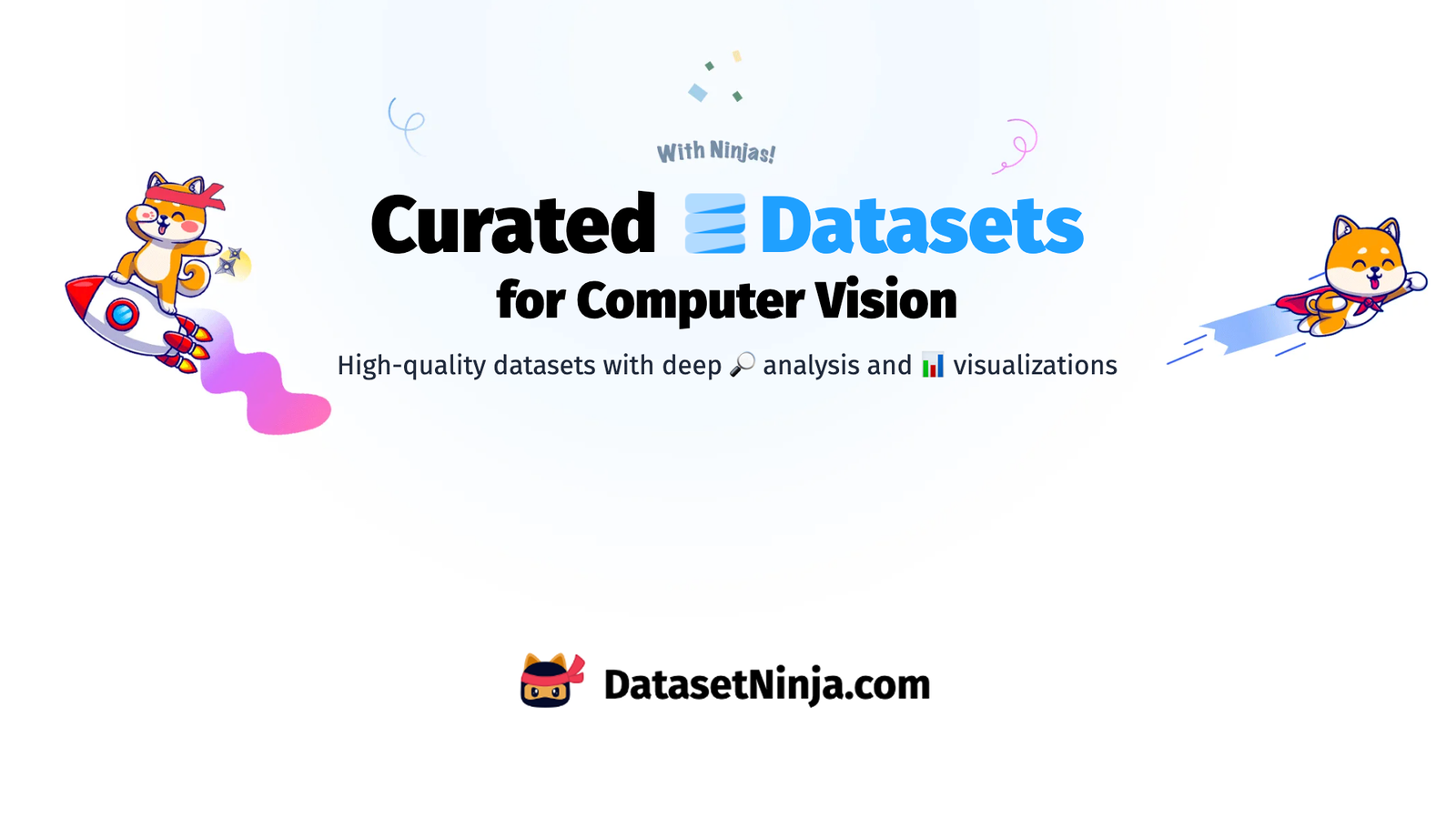 Table of Contents
Today is a big day! Me and Denis, co-founders of Supervisely, are happy to introduce a new initiative DatasetNinja.com — easy-to-use service to search and explore Computer Vision datasets. And, it is available to the entire Machine Learning community completely for free.
Why Dataset Ninja?
Hunting down training datasets can be really tough and frustrating. There are many dataset resources like:
Your ML journey begins with searching the web and unstructured dataset catalogs, downloading huge archives, deciphering intricate annotation formats and licenses. Next, you'll dive into Python scripting to create visualizations and convert the data into a more appropriate annotation format. Also, remember to use Jupyter notebooks to uncover the complex statistics concealed within the data.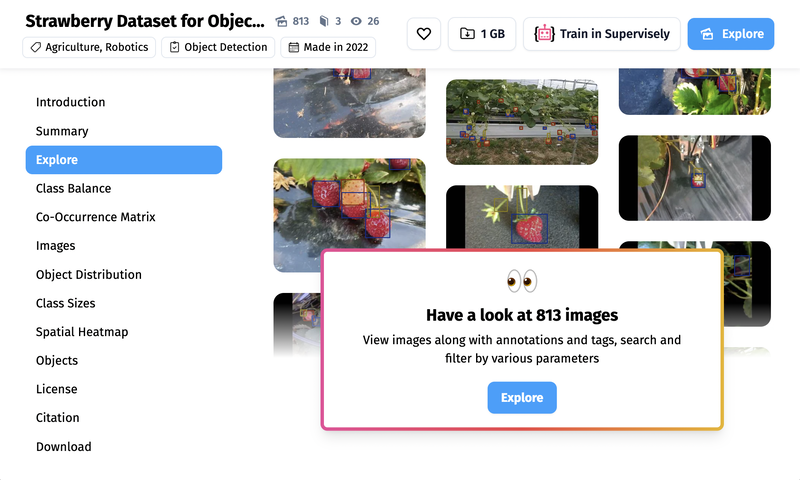 Dataset page has every important piece of information about it
These challenges are just a fraction of the broader tasks you'll encounter. Being a proficient data scientist requires a set of tools to thoroughly comprehend all aspects of your training data.
How Dataset Ninja is different
DatasetNinja.com provides convenient interactive analytical tools and visualizations for dataset experts and data scientists out-of-the-box. Watch this 5 minutes introduction video that illustrates the main concepts of Dataset Ninja:
Dataset Ninja is built on the following principles:
Interactive visualization and statistics 📊
Besides quickly previewing all images with annotations in a thumbnail gallery, you can also explore class balance, confusion matrix, spatial distribution of labels and other aggregated statistics. Just click the matrix cell or table row to open all corresponding images. These interactivity opens up a new way to filter and explore datasets.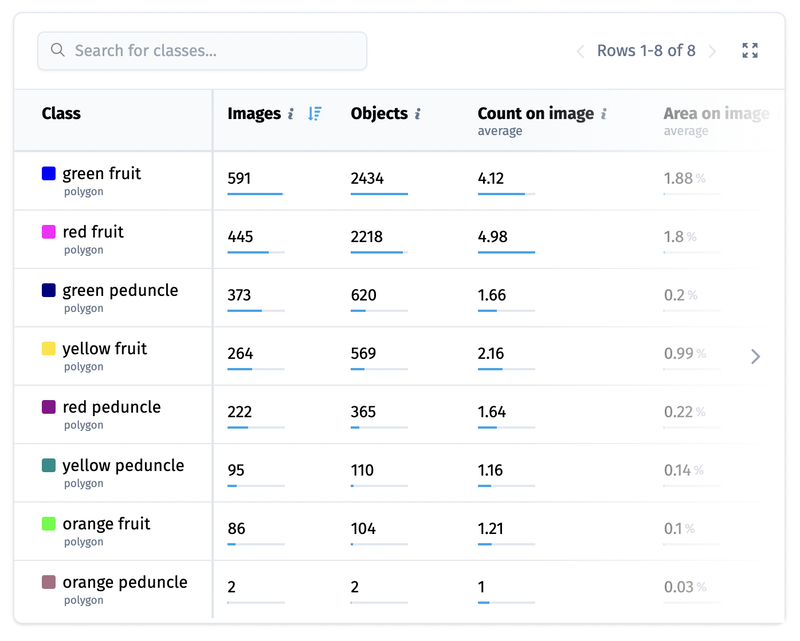 There are countless interactive statistics and charts to explore
One annotation format for all datasets 📦
All datasets now have converters to single annotation JSON format — Supervisely. It comes with easy-to-use Python SDK - just pip install supervisely and has Developer portal with nice documentation and examples.
Convenient search and structured dataset info 🔎
Search by industry, class name or by license - now you do not have to go digging around hundreds of unstructured lists and websites. Dataset page gives all relevant information, links, summary and license references. Everything you need is there.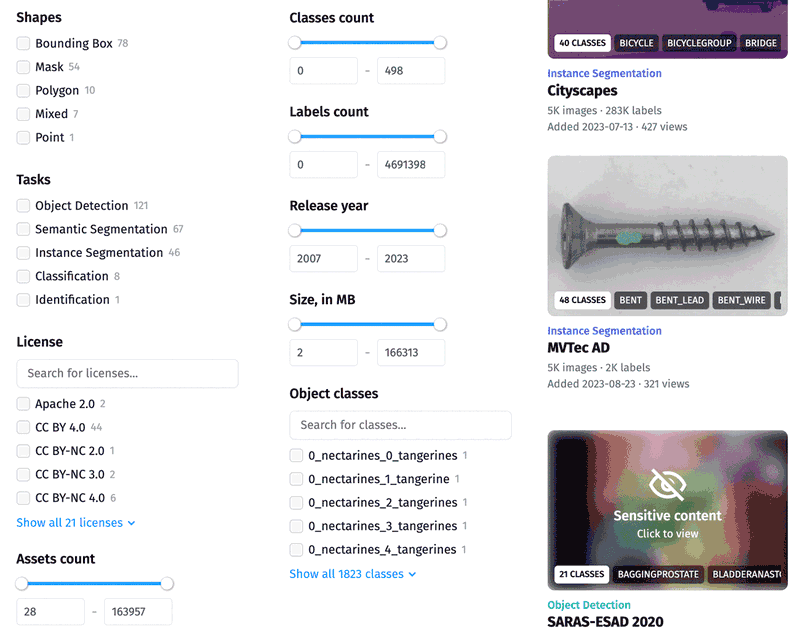 Catalog has tons of filters and sort options
Integration with Supervisely platform 🤝
Native integration with Computer Vision platform Supervisely allows you to make the way from labeled data to model training in just a few clicks. For example, you can train state-of-the-art models like YOLOv8 or use any of 250+ tools from Supervisely Ecosystem in your machine learning research.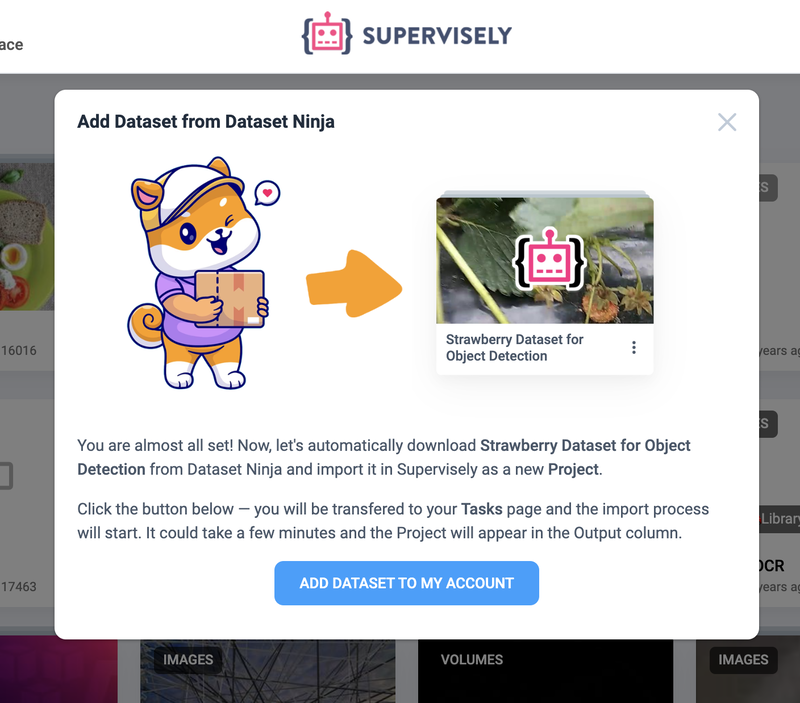 Just one click — and you can train any dataset in Supervisely
New datasets and updates every day 🔥
Dedicated team of python engineers and dataset experts on a daily basis collects and systemizes CV datasets, implements data converters and calculates all statistics and visualizations. Any contributions from Computer Vision Community like ideas, dataset suggestions or Python SDK improvements are welcomed. We appreciate any help and hope that collaborative work of the entire community can make a huge impact on the AI field by making data structured and easily accessible for everyone.
Conclusion
The main goal of Dataset Ninja is to centralize and structure the world of Computer Vision datasets in one place, build the central hub where datasets reside and provide the best tools for dataset exploration and analysis.
It is a well-known fact that the quality of training data significantly influences model accuracy. We firmly believe that interactive visualizations and comprehensive statistics will empower data scientists to gain a deeper understanding of their training data, enabling efficient quality assurance and ultimately leading to the training of more accurate neural networks.
. . .
Supervisely is online and on-premise platform that helps researchers and companies to build computer vision solutions. We cover the entire development pipeline: from data labeling of images, videos and 3D to model training.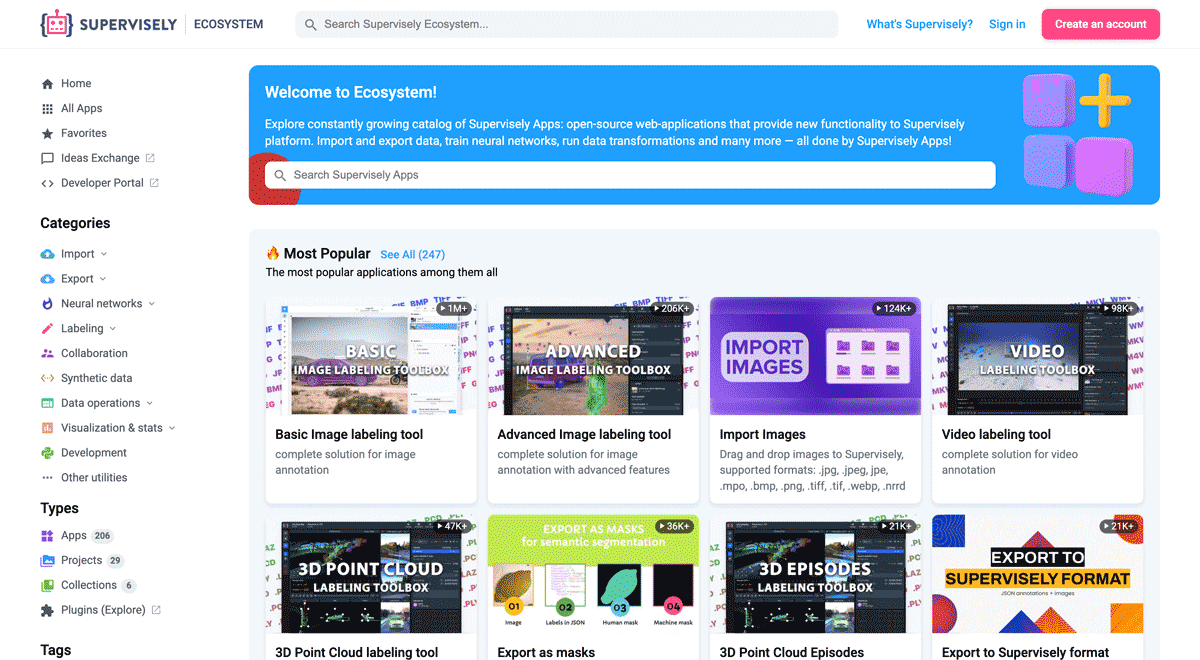 The big difference from other products is that Supervisely is built like an OS with countless Supervisely Apps — interactive web-tools running in your browser, yet powered by Python. This allows to integrate all those awesome open-source machine learning tools and neural networks, enhance them with user interface and let everyone run them with a single click.
You can order a demo or try it yourself for free on our Community Edition — no credit card needed!
. . .